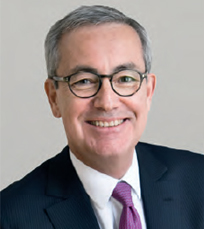 Jean-Pierre Clamadieu
ENGIE
ENGIE has been an early developer of renewable energies. It is time to accelerate the deployment of mature technologies such as wind and solar and to invest in promising solutions like biogas and hydrogen. These efforts are crucial to make the EU reach carbon neutrality.
Commitment
ENGIE's purpose is to act to accelerate the transition towards a carbon-neutral economy, through reduced energy consumption and more environmentally friendly solutions. This purpose brings together the company, its employees, its clients and its shareholders, and reconciles economic performance with a positive impact on people and the planet. ENGIE's actions are assessed in their entirety and over time.
Some key targets and achievements:
Greenhouse gas emissions from electricity production should be reduced from 149 Mt in 2016 to 43 Mt in 2030 (80 Mt in 2019).
Proportion of renewable energy in the electricity mix should increase from 20% in 2016 to 58% in 2030 (28% in 2019).
The amount of green bonds issued by ENGIE since 2014 now stands at €11.15 billion, making the Group one of the world's leading corporate issuers of green bonds.
Lighthouse initiative
In Rivesaltes (France), ENGIE has built a solar power plant that at the same time serves as a car storage park. The photovoltaic solar shades shelter the parked vehicles from bad weather while allowing the production of clean and renewable electricity.
Recharging terminals for e-vehicles have been installed. To optimise its energy management, this power station is part of an experimental micro-smartgrid consisting of three photovoltaic solar shades feeding a storage system by batteries, an e-vehicle and workshops on site. To build it, ENGIE Green has called on local companies, while the photovoltaic solar panels are produced by Solarworld in Germany.
Key figures
48,384 solar panels photovoltaic systems spread over 17.3 hectares of parking space
Total power of 13.5 megawatt-peak (MWp)
Investment of €17.3 million
Annual production of nearly 18.5 million kilowatt hours