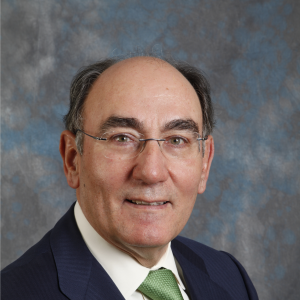 Ignacio S. Galán
Iberdrola
The fight against climate change has been the main driver behind Iberdrola's strategy of profitable growth, which has led us to invest more than €120 billion since the turn of the century and have become the  world's biggest wind power producer and one of the lowest-emission companies among Europe's integrated utilities. The strategic plan on clean energy and networks will trigger an investment of €75 billion in five years and enable the company to be carbon neutral in Europe by 2030.
Commitment
Iberdrola is committed to leading the energy transition, a task it has begun 20 years ago, and in which it has invested €120 billion since then, making it the world leader in renewables.
Today, our emissions are only 80g/kWh, one third of those of our sector in Europe, and we plan to reduce them by half in 2025 and reach climate neutrality in Europe already by 2030, and globally in 2050. To this aim, we will reach this year an all-time record of €10 billion in green investments.
As part of a large number of initiatives aimed at reaching the most ambitious climate goals, such as the United Nations Global Compact, we defend that aligning climate goals and industrial policies will create wealth and high-quality jobs in Europe.
Lighthouse initiative
With our partner company, Fertiberia, our objective is to decarbonise the production of ammonia and produce only green fertilisers in Spain by 2027, by integrating green hydrogen, renewable sources and hydroelectric pumping plants.
To that aim, Iberdrola will be launching the two largest plants producing green hydrogen for industrial use in Europe, amounting to 800 MW of electrolytic capacity with an investment of over €1.800 million. The first plant, Puertollano I, will consist of a solar plant, a lithium-ion battery system and a 20 MW electrolyser.
Pumped storage facilities will provide these plants with renewable power on a 24-hour basis. Iberdrola´s flagship project, the Tamega Hydroelectric complex in Portugal, with an investment of €1.500 million has enough storage capacity to supply 2 million households with clean energy for an entire day.