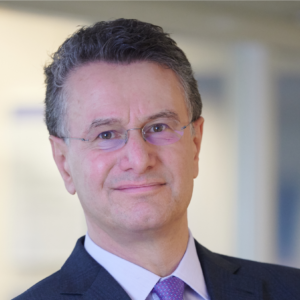 Dimitri Papalexopoulos
Titan Cement Group (and Chairman of the ERT Committee on Energy Transition & Climate Change)
The transformative agenda of the European Green Deal is as demanding as it is compelling. The scale of the transition involved requires strong and sizeable collaboration between governments, society, industry and the wider business community.  For our part, we are engaged and ready to support the 55% reduction target by 2030 coupled with an enabling policy framework to ensure competitiveness and industrial transformation.
Commitment
We have adopted a climate change mitigation strategy, which is reflected in our environmental policy and drives our Group CO₂ Initiative, targeting to achieve 35% reduction, by 2030 below 1990 level.
We continuously build on our CO₂ Initiative, which includes actions per plant, taking both conventional and innovative actions to mitigate CO₂ emissions. We are committed to contribute to the Paris Agreement (COP21) objective to keep the global temperature increase below 2oC and we are supportive of the European Commission's Green Deal vision of carbon neutrality by 2050.
Lighthouse initiative
Separation Technologies (ST), a TITAN Cement Group company and a leader in the beneficiation of fly ash, has introduced a pioneering process to recycle fly ash from landfills, which is then used to reduce the carbon footprint of cement and concrete products. Through this new technology, fly ash is reclaimed from landfills and is transformed into high-quality, green products, which can be used as sustainable raw materials in cement, concrete, and power generation. TITAN's exclusive technology also provides a unique solution for the clean-up and remediation of numerous fly ash landfills and ponds and their surrounding communities worldwide.
ST is a designer, manufacturer and marketer of proprietary separation equipment for dry powders. Its patented technology is suited for the processing of dry powders and recycling of waste streams in an innovative, environmentally sustainable, and cost-effective manner, contributing to the circular economy, both locally and globally. ST offers its unique technology and services to customers in other industries as well, such as construction, mining, food & nutrition, and animal feed, while its global coverage has expanded on six continents providing services to customers anywhere in the world.
TITAN Cement Group: Future-ready for a carbon-neutral and digitalised world
Building the future means building smarter and more sustainably. TITAN is shaping the building materials industry through de-carbonization & digitalization for a more sustainable world.