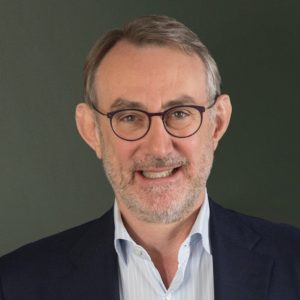 Jean-François van Boxmeer
Vodafone Group
Achieving a climate-neutral Europe by 2050 requires investment in digital solutions to enable decarbonisation across multiple sectors, including agriculture, energy, mobility and construction. The ICT sector also needs to reduce its own carbon footprint. Vodafone will eliminate the carbon emissions from its operations by 2030 and reach full net zero by 2040, while enabling other sectors to save 350m tCO2e of carbon by 2030.
Commitment
Vodafone is committed to building an inclusive and sustainable digital society. We have committed to reaching full value chain Net Zero emissions by 2040 (against a 2020 baseline) and switching to 100% renewable electricity by July 2021 in Europe and by 2025 globally.
We have an approved 2030 1.5C° Science Based Target: by 2030 we will reach Net Zero emissions in our own operations and halve the emissions in our value chain. Most importantly, we are supporting society's transition to a low carbon future by enabling our customers to reduce their emissions. We have set a target of enabling the reduction of 350m tonnes CO2e between 2020 and 2030.
Lighthouse initiative
Vodafone has committed to helping its business customers reduce their carbon emissions by a cumulative total of 350 million tonnes CO2e globally between 2020 and 2030, greater than the total annual carbon emissions of Italy for 2019.
Carbon reductions are mainly delivered through our IoT services, including logistics and fleet management, smart appliances, smart metering and manufacturing activities. For example, in the city of Guadalajara, Spain, 13,500 LED lights were connected to a central management system, reducing street lighting energy consumption by 68%. In addition to IoT, other savings can be made through healthcare services, cloud hosting and teleworking.
In FY19/20, our technology and services helped our customers save 6.9 million tonnes of CO2e, nearly four times the emissions generated from Vodafone's
own operations.
Our Purpose | Planet | Vodafone
Business success should not come at a cost to our planet. That's why we are using 100% renewable electricity to power our European network and we're committed to halving our environmental impact globally by 2025 and reaching net-zero by 2040.